---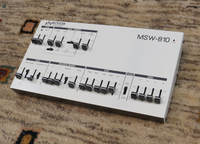 IMPORTANT:
The Analog only variant can ONLY be used via CV/Gate like the original CMU-810.  
Fully assembled and Calibrated.
 The MSW-810 is a faithful recreation of the CMU-810 Monosynth which was designed as a synth expander for the 1983 CMU-800 computer music production system. At its core however, is the tone generator of the MC-202.  
Specifications:
VCO
AS3340 Based
Range: 16'/8'/4'/2'
Pulse Width Modulation: 50% to Min
PWM Mode: ENV/Manual/LFO
Modulation Depth
Tune
Sound Mixer 
Level Control Sliders: Square, Saw, Sub-OSC, Noise
Sub-OSC Waveforms: 1 oct down, 2 oct down, 2 oct down PWM
VCF

AS3109 Based
Cutoff Frequency: 10Hz to 20kHz
Resonance: 0- Self Oscillation
ENV Depth
Modulation Depth
CV Follow: 0-100%
VCA
Gate or Envelope
Envelope
Attack time: 1.5 ms to 2 s
Decay time: 2 ms to 10 s
Sustain Level: 0-100%
Release Time: 2 ms to 10 s
LFO
Rate: 0.1Hz to 20 kHz
Delay Time: 20 ms to 0.7s
Rate Indicator
VCA + Mixer
Level Control Sliders: Synthesizer, Input 1, Input 2, Output
VCA Bypass Switch
VCA Response: Lin/Exp
Jacks

Synth CV in: 1V/Oct, 0-7V, 3.5mm TS 
Synth Gate in: 0-12V, On>2.5V, 3.5mm TS
VCA CV In: Lin 0.83 to 5V, Exp 0.83-4.58V, 3.5mm TS
Input 1: Unbalanced 1/4" TS
Input 2: Unbalanced 1/4" TS
Synth Out: Max -6 dBm, Unbalanced 1/4" TS
Mix Out: Max -10 dBm, Unbalanced 1/4" TS
Headphone Out: Stereo, 9-150 ohm, 3.5mm TRS


Power
9V DC, 500 mA, Tip positive.  120-240V Included
Dimensions
13"x2.5"x8"
Includes: Universal power supply, MSW-810 Synthesizer
Demos: