---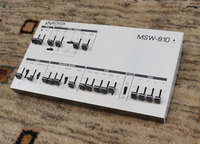 Fully Assembled and Calibrated.
 The MSW-810 is a faithful recreation of the CMU-810 Monosynth which was designed as a synth expander for the 1983 CMU-800 computer music production system. At its core however, is the tone generator of the MC-202.  
Specifications:
VCO
AS3340 Based
Range: 16'/8'/4'/2'
Pulse Width Modulation: 50% to Min
PWM Mode: ENV/Manual/LFO
Modulation Depth
Tune
Sound Mixer 
Level Control Sliders: Square, Saw, Sub-OSC, Noise
Sub-OSC Waveforms: 1 oct down, 2 oct down, 2 oct down PWM
VCF

AS3109 Based
Cutoff Frequency: 10Hz to 20kHz
Resonance: 0- Self Oscillation
ENV Depth
Modulation Depth
CV Follow: 0-100%
VCA
Gate or Envelope
Envelope
Attack time: 1.5 ms to 2 s
Decay time: 2 ms to 10 s
Sustain Level: 0-100%
Release Time: 2 ms to 10 s
LFO
Rate: 0.1Hz to 20 kHz
Delay Time: 20 ms to 0.7s
Rate Indicator
VCA + Mixer
Level Control Sliders: Synthesizer, Input 1, Input 2, Output
VCA Bypass Switch
VCA Response: Lin/Exp
Jacks

Synth CV in: 1V/Oct, 0-7V, 3.5mm TS 
Synth Gate in: 0-12V, On>2.5V, 3.5mm TS
VCA CV In: Lin 0.83 to 5V, Exp 0.83-4.58V, 3.5mm TS
Input 1: Unbalanced 1/4" TS
Input 2: Unbalanced 1/4" TS
Synth Out: Max -6 dBm, Unbalanced 1/4" TS
Mix Out: Max -10 dBm, Unbalanced 1/4" TS
Headphone Out: Stereo, 9-150 ohm, 3.5mm TRS
MIDI In: 3.5mm TRS (1.5m cable included)
MIDI In: USB C (1.5m USB C-USB A included)
MIDI
Control of Note/Gate ONLY
USB C
TRS MIDI Universal
Power
9V DC, 500 mA, Tip positive.  120-240V Included
Dimensions
13"x2.5"x8"
Includes: Universal power supply, MSW-810 Synthesizer, 1.5m TRS A MIDI Cable, USB C Cable.
MIDI CONFIGURATION: 
MIDI Receive channel, note priority, and root octave can all be set here:
MSW-810 Synthesizer MIDI configuration
Connect VIA USB MIDI ONLY, WebMIDI compatible browser required.
Firmware Updates: 
V1.01: (7/12/2023) MSW810MIDI_1_01.uf2
V1: (11/3/2022) MSW810MIDI_1_00.uf2
To update firmware, please visit this link with the synth powered on and the USB connected.  (webMIDI compatible browser required)
MSW-810 Synthesizer MIDI configuration
Device should show MSW-810, simply click the "REBOOT TO BOOTLOADER" button, a file folder will open on your computer, copy the UF2 file downloaded above to folder.  Confirm the operation and the folder will close, process is complete.
If you have a serial number below 28, please contact me for further instructions on how to update.  
MIDI IMPLEMENTATION CHART:
| | | | | |
| --- | --- | --- | --- | --- |
| Sysex | Default | Function | Values (XX) | |
| f0 7d 08 10 0c xx f7 | 0 | Change Channel | 0-15 | 0 = Channel 1, 1 = Channel 2, ...15 = Channel 16 |
| f0 7d 08 10 0b f7 | | Boot to Bootloader | | |
| f0 7d 08 10 0f f7 | | Calibration | | |
| f0 7d 08 10 0a f7 | | Quick Calibration | | |
| f0 7d 08 10 0d xx f7 | 2 | Root Octave | 0-5 | |
| f0 7d 08 10 0e xx f7 | HIGH NOTE | Note priority | 0-2 | 0 = LOW NOTE, 1 = HIGH NOTE, 2 = LAST NOTE |
Demos: